Wolong pandas expected to leave for Beijing as scheduled
(Xinhua)
Updated: 2008-05-21 09:42
CHENGDU -- A total of eight pandas selected to entertain tourists at the Olympic Games period, are expected to leave for Beijing on May 24 as scheduled, despite the quake hitting their hometown in Sichuan.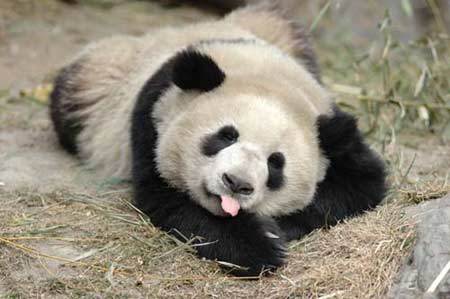 The male giant panda winner, Taotao, one of the eight giant pandas that entertain tourists at the Olympic Games period in this March 29 file photo
The animals, all in good shape, arrived in the panda breeding base in the provincial capital of Chengdu on Sunday night from Wolong, waiting for a flight to Beijing, an official with the Sichuan Provincial Forestry Bureau told Xinhua on Tuesday.
"They will take a special plane to Beijing on May 24 if no other accident happens, but the ceremony and the series of activities to mark their leaving are all cancelled," said Xiong Beirong, head of the bureau's wildlife protection branch.
The animals would be accompanied by their keepers during the flight.
"The keepers, who are quite familiar to them, will also take care of them during their stay in Beijing to help them get over any after-quake mental problems," said Xiong.
Some of the pandas behaved nervously and had less sleep and food after the quake, which has left nearly 40,000 people killed so far.
"It's necessary to have these people, who began to take care of the pandas since they were born, be with them now. Especially as they are facing the challenges of living in a strange place," she said.
A grand ceremony to see off the pandas was to have been held in Wolong-based China Giant Panda Protection and Research Center, which is home to 86 pandas, as a promotion for panda protection.
However, the 8.0-magnitude earthquake, its epicenter is about 30 kilometers from Wolong, jolted Sichuan on May 12, leaving five Wolong center staff workers killed, two pandas injured, six pandas missing and panda houses damaged.
As of Tuesday morning, four of the six missing pandas had returned to Wolong and staff are searching for the other two.
"Rescuing the missing pandas and taking care of the others in the center are our top priorities now," said Xiong, adding aftershocks could be felt in Wolong at every few hours.
The eight two-year-old pandas, selected by netizens from 16 candidates born in 2006 in the Wolong center, will be on display at the Beijing Zoo until November, and are expected to attract more than six million tourists from home and abroad during the six-month show.
The zoo has already begun to upgrade its facilities to accommodate the additional animals.
There are about 1,590 pandas living in the wild in China, mostly in Sichuan and the northwestern province of Shaanxi and Gansu. Another 180 have been bred in captivity.
More than 60 pandas at another breeding center in Chengdu were reported safe after the quake. Another eight pandas at a preserve in Ya'an, about an hour's drive west of Chengdu, were safe as well.
The Wolong center is deep in the hills north of Chengdu along a winding, two-lane road that has been partially blocked by landslides.